Hey There,
This week we want to show how Hal9 can be used to create predictions. Being able to view data and make educated guesses on where the trends are going is a highly valuable tool. Through utilizing Javascript, we have a pipeline that creates a prediction for Bitcoin - you can view and open this pipeline here.
What is Bitcoin
​Bitcoin is a highly recognized cryptocurrency, created by Satoshi Nakamoto who desired "an electronic payment system based on cryptographic proof instead of trust." The value of bitcoin is derived from the system that is made within, rather than governments or centralized banks.
Being decentralized, anyone is able to buy and sell bitcoin. If you want to learn more about bitcoin, you can check out this Forbes article​
Predicting Bitcoin
Using Artificial Intelligence, Hal9 first retrieves Bitcoin's prices with a Bitcoin block. Using the Timeseries Blocks, Simulate Block, and visualizing through a Line Graph, we are able to visualize and predict Bitcoins value. The Simulate Block looks at the predictions from the Timeseries block to measure how well would our predictions perform against a buy-and-hold strategy. With the huge run of Bitcoin, it is nearly impossible to beat the buy-and-hold; however, you can also change the data interval from daily to down to the minute, where our predictions tend to match or even outperform buy-and-hold.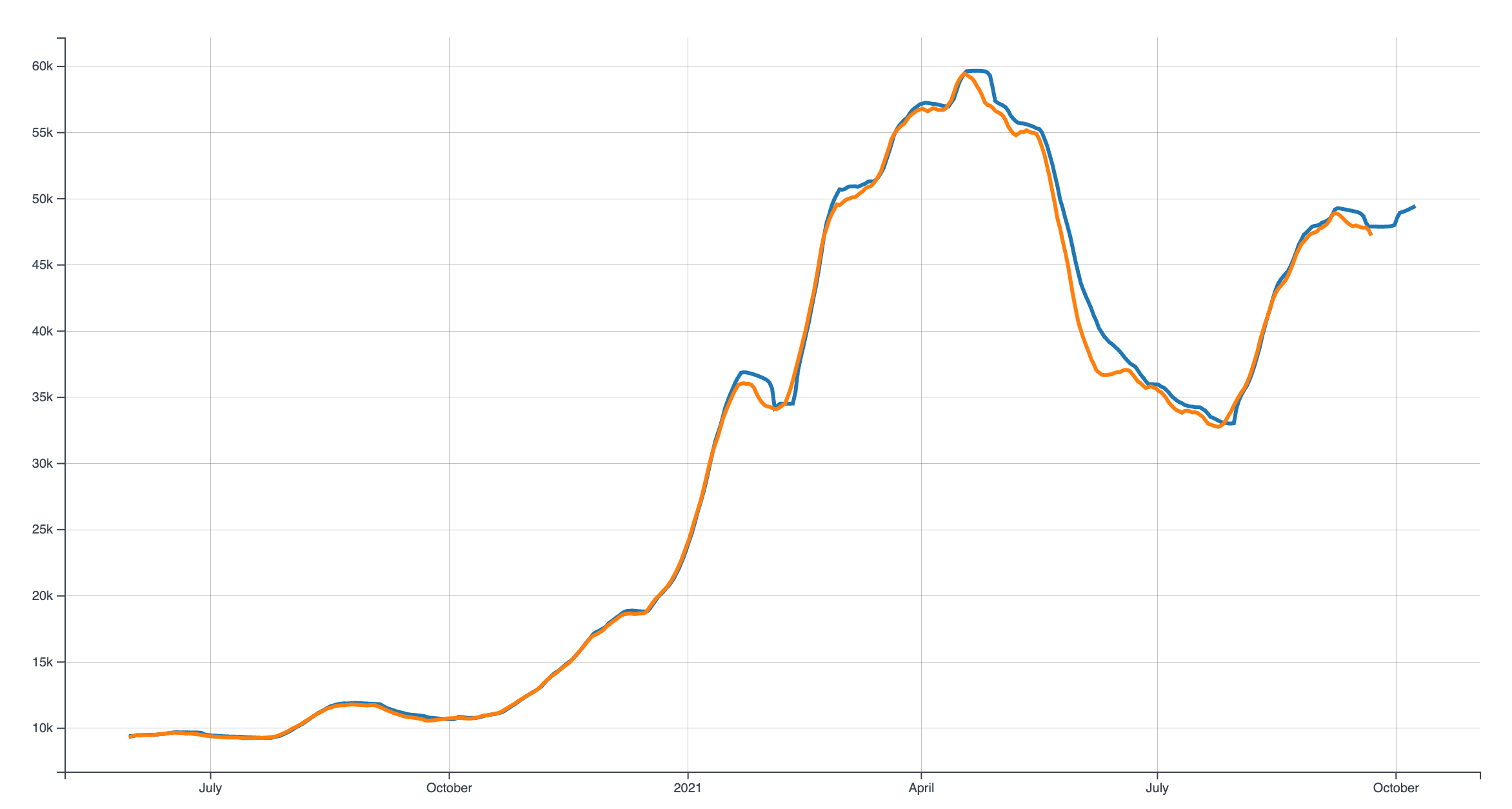 If you want to predict further into the future, you can adjust how far in advance the prediction goes by using the sliding scale on our second Time Series Block. However, the further you push the model to predict values into the future, the less likely the predictions will be correct. That said, we encourage you to experiment with Hal9 and get a better sense of how AI actually works.
Disclaimer: The opinions expressed in this post are for general informational purposes only and are not intended to provide specific advice or recommendations for any individual or on any specific security or investment product. It is only intended to provide education about Artificial Intelligence. The views reflected in the post are subject to change at any time without notice.
How did we build this?
The SMA (Simple Moving Average) Block is a statistical technique that smooths the rapid movement of a rapidly moving data set (such as Bitcoin which is very volatile)

The Window Block pulls the numbers within the SMA block calculation and lists them as a new column in the dataframe

The First Time Series Block trains the model using LSTM (Long Short Term Memory), which is a model architecture based on RNN (recurrent neural network). RNN runs backwards loops on data inputs; if you have [x1, x2, x3], the output of the x1 transformation is utilized as the input for the x2 transformation. This model runs until a 'forget block', which is set in place by the Window Block.

The Second Time Series Block runs the predicted bitcoin value.

The Numbers block assists in filling up missing entries for our chart.

The Simulation Block is utilized to measure the returns from our model to trade bitcoin against a 'buy and hold' strategy.

The Dates Block parses the dates, which allows Javascript to recognize and properly order all of the data. The Line Block allows users to visualize both the actual bitcoin value and predicted bitcoin value. By adjusting various parameters you can adjust the visualization by time on the X axis, or amount of time forward that Hal9 predicts for Bitcoin's value.
About Hal9
Hal9's Interface provides you with various types of charts, transformations and ready-to-use AI models to analyze data with ease.
If you are interested in using AI models in your data analysis, please give hal9.ai a try and let us know what you think. If you're ready for a bigger challenge, you can create entirely new transformations, visualizations or predictive models, and contribute them to our open source GitHub repository.
We also have a Twitter Hal9 account, worth following to learn more about Artificial Intelligence, visualizations, and data analysis.
​
​
​