​
Hey There!
Javier here, from Hal9. We've been growing our team a bit and would like to let you know that we are planning to send you weekly updates on Hal9. These updates will be composed of examples, tutorials, and creations from our users such as yourself. At Hal9, we are excited to begin providing these updates to allow our audience to grow alongside us.
Tesla Jobs
In this week's post, we are going to look at the Tesla Jobs visualization available on Hal9. This visualization showcases what jobs, and for what locations Tesla is hiring for by pulling data from Tesla's careers page.
What is Hal9 Doing?
By importing data from the jobs web table on Tesla's careers page, and transforming this table within Hal9, we are able to create multiple data visualizations.
The first step to create visualization on Hal9 is to pull the data. By importing a CSV, JSON, Web Table, or Excel file into Hal9, you are able to view the raw data within Hal9's user interface. In the Tesla Job tracking visualization, we imported a Web Table.
Once the data has been uploaded, the pipeline is able to be created to transform and visualize the data. This process is expedited by Hal9's drag and drop feature, which allows users to easily move the data around while preparing visualizations. For the Tesla Job's visualizations, three separate visualizations have been created which you can view on the pipeline.
The first visualization tracks the number of jobs by category and ranks them by frequency in a bubble chart; the number of bubbles has been limited to 11 for easier visualization.
The pipeline for this first visualization runs from 'Web Table' to the first iteration of 'Bubbles' which is highlighted in a slightly darker blue in the image below. Selecting 'Copy' allows for the user to 'Paste' the same Web Table later and create a new visualization. The 'Summarize' transformation allows users to group and clean the data from the Dataset. While the 'Map' feature allows users to create new labels from the Dataset to create cleaner visualizations. Finally the user is able to visualize this data set by selecting bubbles and filling out the 'Fields', 'label' and 'size' columns within Hal9.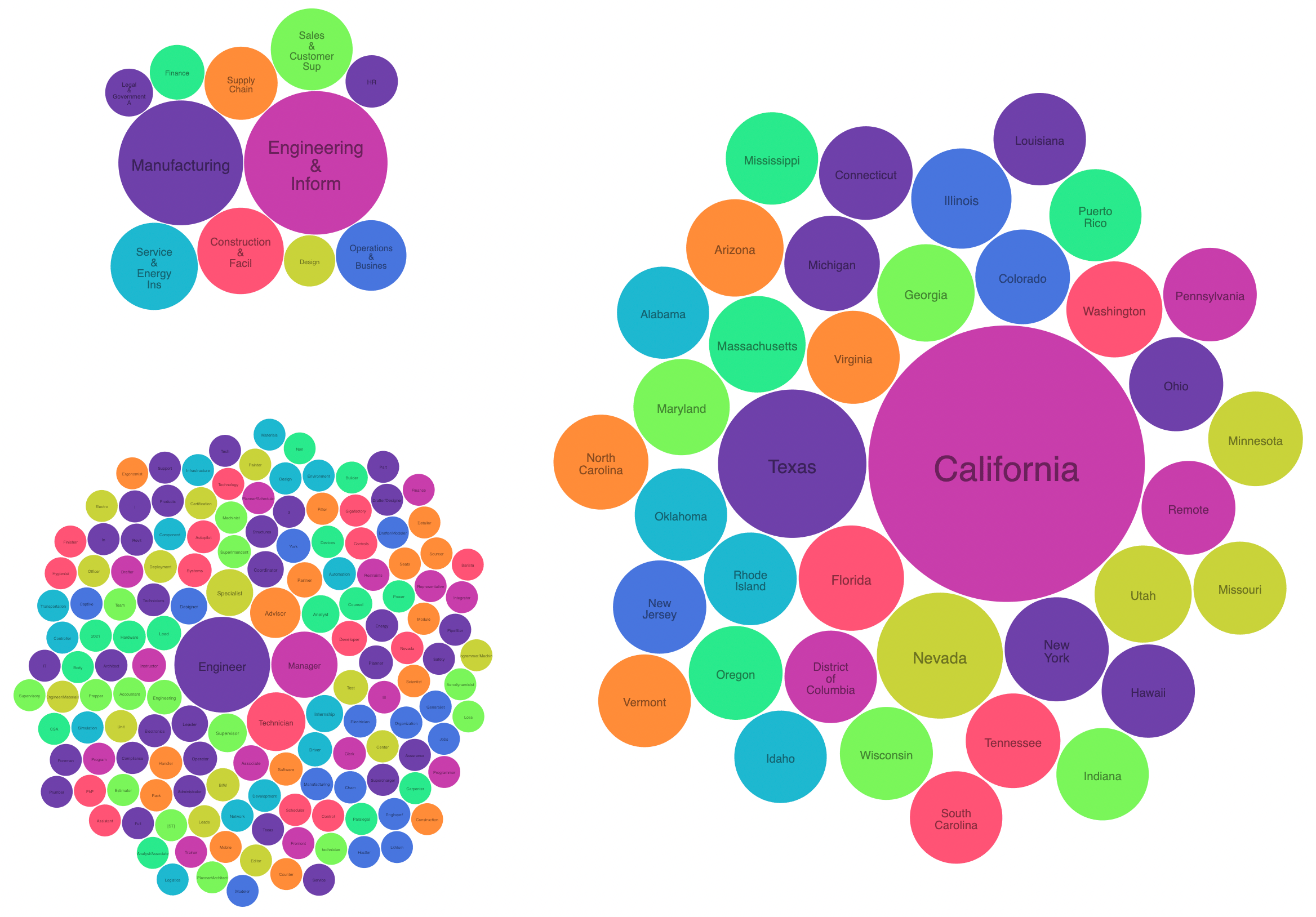 What Can You Do?
Hal9 allows for individuals to quickly pull data and sort it into visually stimulating ways with ease. We encourage you to test your skills and explore Hal9's by recreating and learning example visualizations such as Tesla jobs. If you're ready for a bigger challenge, you can create entirely new data sources, transformations, visualizations or predictive models, and contribute them to our open source GitHub repo.
If you would prefer to not see these updates from us, you can unsubscribe or let me know directly.
​
​
​
​